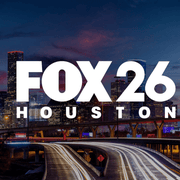 The latest from FOX 26 Staff
Texas Governor Greg Abbott signed HB 1024 into law, making alcohol-to-go permanent.
Authorities say Roy Fenley, 67, pleaded guilty to charges of Aggravated Sexual Assault to a Child following an investigation of abuse over the last 30 years.
Houston police say the driver of the pickup truck did not stop to provide medical assistance and fled the scene.
Authorities in Galveston are searching for an 8-year-old boy who is believed to have been caught in a rip current on Tuesday evening.
A severe thunderstorm watch is posted for Grimes, Montgomery, Polk, San Jacinto, Walker and Washington counties until 9 p.m. Tuesday.
Local law enforcement says the F.B.I. gave them a tip that led them to Hernandez's vehicle.
Authorities say two people were found dead during the search for two missing boaters at Lake Conroe.
The Harris County Sheriff's Office released video from the deadly deputy-involved shooting of a 35-year-old man in March.
A magistrate set his bond at $50,000 on Tuesday, but the district attorney's office has filed a motion to revoke his bond for a previous murder charge.