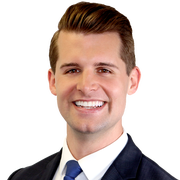 Stephen Morgan
Meteorologist
Stephen Morgan joined the FOX 26 News team in July 2017 as a reporter and was promoted to weekend morning weather anchor in March 2019. He will continue to report on various station newscasts. "Stephen's demonstrated passion for weather was evident from the moment he hit the streets here in Houston as a lead reporter on our coverage of Hurricane Harvey," said FOX 26 Vice President & News Director Susan Schiller. "His formal education as a meteorologist combined with his storytelling skills will keep Houstonians in the know on the day's weather forecast but, also, on the environmental and climate issues that impact our viewers." Morgan has served as a general assignment reporter and fill-in meteorologist for FOX 26. He began his career in broadcast journalism in 2013 as an anchor and reporter at KRBK in Springfield, Missouri, where he also filled in as a meteorologist. "Mother Nature has defined so much of my career in local news and I'm excited to begin this new chapter with FOX 26, as well as the great people who call Houston and southeast Texas home," said Morgan. "The Gulf Coast presents its own unique forecasting challenges, but I'm ready for it." A graduate of Saint Louis University, Morgan holds a Bachelor of Science degree in meteorology. Originally from Maryville, Illinois (just east of St. Louis), Stephen loves to travel and has been all over the world from Juarez, Mexico to Germany, Italy and Bulgaria. Stephen's most memorable trip, however, was to Israel where he took part in an archeological dig. Stephen has also sat down and interviewed political leaders like 2016 presidential candidates Bernie Sanders, Mike Huckabee and Ben Carson. And from the political landscape to geographical, Stephen revisited one of deadliest natural disasters America has seen as the five-year anniversary of the Joplin, Missouri EF5 twister was observed. The tornado killed 162 people and injured over 1,000. In his free time, Stephen enjoys 'The Great Outdoors' (he likes the movie too). Whether that's hiking, running or doing yoga; if the weather is nice, he's outside. Even if it's bad, he's probably out reporting on mother nature's fury as that's one of his greatest passions. Stephen is eager to hear your story! Connect with him online and say hello.
The latest from Stephen Morgan
The enhanced risk is mainly west of Houston. Main threats appear to be damaging winds as well as very large hail, but a tornado cannot be ruled out.
The Nutcracker is back at The Wortham Center for its holiday run. You can see the beloved ballet for as little as $30.
Houston-area weather forecast