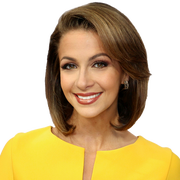 Kaitlin Monte
Evening Anchor
Kaitlin Monte is the anchor for FOX 26 News at 5 p.m. and 9 p.m. each weekday in Houston. She also hosts FOX 26 The News Edge at 10 p.m. every weeknight. Prior to FOX 26, Kaitlin was a reporter and Emmy-nominated traffic anchor for PIX11 Morning News in New York City. She had previously spent several years as host of Mets Insider for SNYtv and on BBC New York as host of an interactive trivia segment on Weekend Today in New York.
Growing up alongside three siblings with learning and cognitive disabilities led Kaitlin to become an advocate in the 2011 anti-bullying movement in her home state of New York. She founded an online petition to bring the issue of cyberbullying to New York legislators, leading to a partnership with lawmakers in the launch of the first-ever New York Cyberbully Census, which provides legislators definitive data on the breadth of the issue. Kaitlin has appeared as an expert on MSNBC, Al Jazeera America, and was the Anti-Defamation League's No Place for Hate® "Difference Maker of the Year" in 2012 for her "Anti-Bullying Through Leadership" workshop series. Kaitlin was selected by Randomhouse Publishing to be part of an audiobook series on bullying alongside "13 Reasons Why" author Jay Asher 
Kaitlin currently specializes in reporting on emerging technology and its impacts on society. While in New York City, she spent several years working for agencies to provide data targetting and analysis for social media marketing.
Her passion for tech started early: at age 16, Kaitlin dropped out of high school to begin her freshman year at Clarkson University, a leading STEM education institute, where she later served as trustee. Thanks to her grade school's participation in Project Lead The Way, Kaitlin entered college with a full semester of engineering credits under her belt.
Prior to television, Kaitlin spent five years touring the country with the United Services Organization (USO) as part of its official entertainment division. She remains a supporter of our military through her work with USO Houston.
The latest from Kaitlin Monte
Which gets you in more legal trouble: driving drunk, driving with marijuana, or driving with a THC vape pen? The answer surprised many when NewsEdge legal analyst Charles Adams explained the reality of laws in Texas when it comes to THC oils, concentrates, and edibles.
"Racism is not just police brutality," says Dr. Rechina Bicette, a Black doctor who's currently Associate Medical Director of Emergency Medicine for Baylor St. Lukes in the Houston Medical Center. "It's not just unfair housing practices, but those systematic injustices filter down to the medical field as well."
It's called Delta-8 and comes from the cannabis plant. Thus, it's a relative of marijuana, aka Delta-9. Similar to the highly popular CBD, which also comes from cannabis, there's concern Delta-8 is becoming popular too quickly while we know too little about its safety.
If you witnessed hate or abuse, would you know what to do? From police brutality to the spike in anti-Asian hate crimes this past year, much attention has been put on identifying problematic behavior in the world around us. A Houston-based non-profit now offers a free monthly training on how bystanders of all comfort levels can help.
We may not be able to save the historic River Oaks Theater, but fans of Houston's arts culture hope to do better at preventing other landmark fine arts venues from suffering the same fate.
When Texas lifts state pandemic restrictions on March 10, employees who still don't feel safe going back to work might have to say goodbye to their job. FOX26 anchor Kaitlin Monte held a legal Q&A with attorney Charles Adams.
Want to give Texas lawmakers a piece of your mind about this week's chaos?
"It would never be a good idea to tell people they should just be infected [with COVID-19] because we do know some people who get infected can get very sick," Dr. Whitacker warned.
A man accused of killing a Houston police sergeant on Monday had cops called on him multiple times in the days prior. He is in the U.S. illegally with a long criminal past.