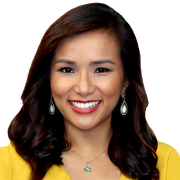 Natalie Hee is thrilled to join FOX 26 News as a reporter in her hometown. Before starting at FOX 26, Natalie was a reporter at KIAH-TV, the CW affiliate in Houston. She has also reported at WDSU-TV, the NBC affiliate in New Orleans, and KXAN-TV, the NBC affiliate in Austin, Texas, where she began her news career. Natalie has covered a number of breaking news and weather stories including the aftermath of Hurricane Harvey, along with the controversial shooting deaths of Alton Sterling and former NFL players Will Smith and Joe McKnight. Like many families in Houston, Natalie is an "oil baby." Born in Malaysia to a family of ex-pats, she spent majority of her childhood moving around every three years, before her family settled in The Woodlands in 2003. She's a graduate of The John Cooper School in The Woodlands and an alumna of The University of Texas at Austin. Natalie is a proud Longhorn and honorary LSU Tigers fan -- Hook 'em Horns and Geaux Tigers! Her family's nomadic lifestyle has also given Natalie the opportunity to travel to countries all across the world. She dreams to one day step foot on all seven continents -- including Antarctica! When she's not working or traveling, Natalie enjoys perusing for new restaurants and cuisines, listening to live music, dancing, karaokeing, shopping, playing volleyball, binge-watching TV shows and trying to be artsy. Natalie is a member of the Asian American Journalists Association and the Texas Exes Houston Chapter. Natalie looks forward to meeting and serving the great people of Houston.
The latest from Natalie Hee
Grammy-award winning Tejano star Joe Lopez of Grupo Mazz is scheduled to make his comeback debut on December 13 at El Rodeo Disco in southeast Houston. He was convicted of raping his niece.
The change will require wireless carriers to not only provide a street address but the exact floor when the call is being made from a multi-story building.
Although TPC said the fire has now been contained, smoke continues to burn, billowing a chemical called butadiene into the air.
Wild hogs are a problem across Texas, and they tend to move during the dark hours. Investigators suspect it was still dark out Sunday morning when Christine Rollins arrived at work and was attacked.
Investigators said one man was shot in the head and another woman was struck in the eye. The two were believed to be boyfriend and girlfriend. The homeowner, 46-year-old Margalidia Avila, was arrested for providing alcohol to minors.
Two new In-N-Out Burger locations are open this weekend, in Stafford and Fort Bend.
More than 700 military members and their families were invited to join the fun.
A Houston woman's warning on social media after a Lyft driver allegedly tried to kidnap her has since gone viral.
Former Houston Astros pitcher Roger Clemens and dozens of volunteers with non-profit organization Kids Meals spent several hours Tuesday delivering meals to 1500 families across Houston. Raquel Perez and her seven kids were one of the 1,500 families to receive the generous donation.