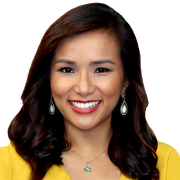 Natalie Hee is thrilled to join FOX 26 News as a reporter in her hometown. Prior to this, Natalie was a reporter at KIAH-TV, the CW affiliate in Houston. She has also reported at WDSU-TV, the NBC affiliate in New Orleans and KXAN-TV, the NBC affiliate in Austin, Texas, where she began her news career. Natalie has covered a number of breaking news and weather stories including the aftermath of Hurricane Harvey, the mass shooting at Santa Fe High School, former President George H.W. Bush's funeral and the Astros 2019 World Series run. 
Like many families in Houston, Natalie is an "oil baby." Born in Malaysia to a family of ex-pats, she spent majority of her childhood moving to various cities around the world before her family settled in The Woodlands in 2003. She's a graduate of The John Cooper School and an alumna of The University of Texas at Austin. Natalie is a proud Longhorn and honorary LSU Tigers fan -- Hook 'em Horns and Geaux Tigers! 
Her family's nomadic lifestyle has also given Natalie the opportunity to travel to countries across the world. She dreams to one day step foot on all seven continents, including Antarctica! When she's not working or traveling, Natalie enjoys perusing for new restaurants and cuisines, listening to live music, dancing, karaokeing, shopping, playing volleyball, binge-watching TV shows, and trying to be artsy. 
Natalie has served as co-President of the Asian American Journalists Association's Texas Chapter since 2018 and is a member of the Texas Exes Houston Chapter. 
Natalie looks forward to meeting and serving the great people of Houston.
The latest from Natalie Hee