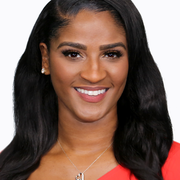 Gabby Hart joined Fox 26 Houston in September of 2021.
Gabby was born and raised in Cleveland, Ohio. She attended college at Cleveland State University and started her news career in her hometown in 2012, where she worked as an intern for WEWS in Cleveland.
Gabby was hired on as a full-time Assignment editor at WEWS while she was still in college. After about 3-years of working in her hometown Gabby had an urge to move from behind the scenes to in front of the camera and into the community. She went to work for WAPT in Jackson, Mississippi as a News Producer and eventually started to report the news once a week. Her first full-time on air job would be 2-years later, in 2017 Gabby moved to Las Vegas and became a General Assignment News Reporter at KSNV.
Gabby prides herself on being authentic in her reporting and building genuine connections with the communities she serves. As a former foster child Gabby is deeply involved with Foster care advocacy agencies across the country and is passionate about working to help build brighter futures for at risk foster youth.
When Gabby isn't tracking down her next story or mentoring the youth, you can find her traveling to new places and participating in adrenaline based adventures. Cleveland Sports are all she knows, but she says she'll gladly embrace Houston's sports teams until the time comes when they face-off with Cleveland. 
Have a News tip? You can contact Gabby via email or reach out to her on Twitter, Facebook or Instagram. 
 
The latest from Gabby Hart