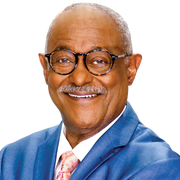 Jose Griñan
Morning Anchor
José Griñan joined KRIV-TV in August of 1993 and has been an integral part of FOX 26 Morning news since its inception, and is now the senior morning news anchor. In addition to his anchor duties José has produced a variety of special series reports, and hosts "The Black Voice." He also hosted "Hola Houston" for several years. Both are weekly public affairs programs. José stays active in the community. He is a volunteer for the National Kidney Foundation, The Cystic Fibrosis Foundation, Special Olympics and the Juvenile Diabetes Research Foundation, to name a few. He is also a board member of several community-based organizations that include the Dive Pirate Foundation, the Houston READ Commission, and Keep Houston Beautiful/Clean City America. José also enjoys speaking to students throughout school districts in our area, giving words of encouragement, motivation, and information about the various aspects and career opportunities available to them. José's interest in broadcasting came while filming and helping to produce documentaries for the U.S. Army. Since being discharged from the Army, Jose's career has taken him to several major cities throughout U.S. Before joining the Fox 26 News department in 1993, José worked in New York, Tampa, Miami, Los Angeles and Dallas. His career choice has allowed him to be an eyewitness to both triumph and tragedy. He covered the massacre at a Luby's cafeteria in Killeen, TX. He saw civil disturbances firsthand in Miami, Los Angeles, and New York, as well as the tragic sewer explosion in Guadalajara, Mexico. Jose has chased hurricanes in the Caribbean and on the US mainland, and was one of the first reporters on the scene of the Branch Davidian siege in Waco, TX. As many of these real-life dramas unfolded he was bringing live reports to his television viewers. José grew up in Tampa, FL. His father was a native Cuban, his mother, a first generation Cuban-American. José speaks Spanish fluently and takes a great deal of pride in his dual heritage. José has been a member of the National Association of Black Journalists since 1978. He also maintains membership in the National Association of Hispanic Journalists, and the Southwest Alternate Media Project. In addition, José is one of FOX 26's most requested personalities to serve as "master of ceremony." José is the father of two adult girls. During his off-duty hours, he enjoys all sports and outdoor activities. Before joining KRIV, José anchored and reported at KDFW-TV in Dallas for 2 years. But his Texas roots go back further. He began his broadcast career in 1975 as reporter and weekend anchor for KTSM AM-FM-TV in El Paso, TX.
The latest from Jose Griñan
In the mid-19th century, Galveston grew rapidly and became a major immigration point for thousands of Europeans and East Coat investors. It was the largest city in Texas, with the moniker "Gateway to the West".
FOX 26's Jose Grinan shares his recipe for Baked Red Snapper. Get step by step instructions right here!