Super Bowl LVII: Both quarterbacks, Jalen Hurts and Patrick Mahomes, are from Texas
HOUSTON - Super Bowl LVII may not be happening in Texas, but both starting quarterbacks for the Kansas City Chiefs and the Philadelphia Eagles will be representing the Lone Star State.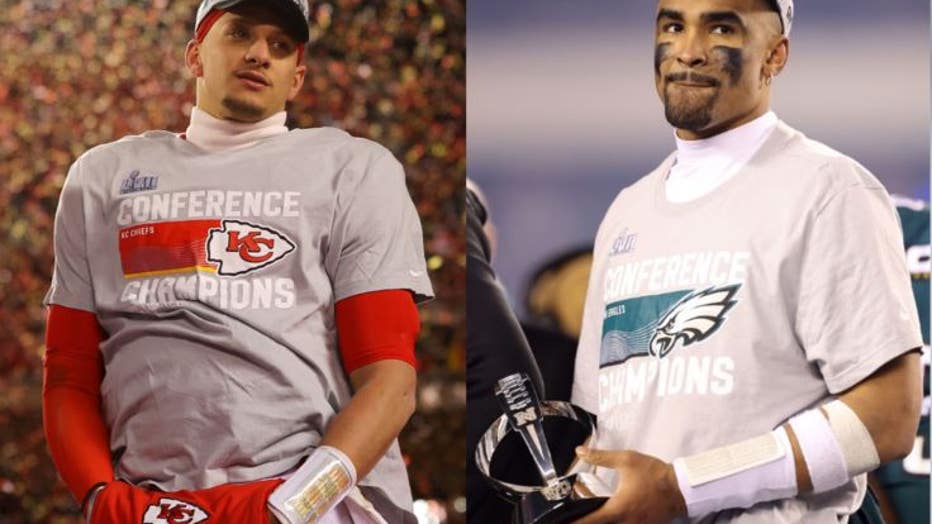 (L) Patrick Mahomes #15 of the Kansas City Chiefs celebrates after defeating the Cincinnati Bengals 23-20 (Photo by Kevin C. Cox/Getty Images) (R) Jalen Hurts #1 of the Philadelphia Eagles holds the George Halas Trophy after defeating the San Francis
Patrick Mahomes, the quarterback for the Kansas City Chiefs, is originally from Tyler, Texas, while Jalen Hurts of the Philadelphia Eagles is from Houston.
 MORE: Chiefs, Eagles meet for title in Arizona
The Eagles, who won the Super Bowl five years ago with a different coach and quarterback (Nick Foles, also from Texas), will try to do it again behind the formidable duo of Hurts and coach Nick Sirianni. Meanwhile, Mahomes will look to earn his second Super Bowl championship after defeating the San Francisco 49ers in 2019.
Mahomes, who also graduated from Texas Tech University, was also awarded the Super Bowl MVP for his performance, becoming the second Black quarterback to win the award and the youngest overall to do so. 
RELATED: Hurts, Mahomes to be first Black quarterbacks to face off in historic Super Bowl matchup
Hurts on the other hand, who graduated from Channelview High School, has a lot to aim for, especially after noting Sunday how the Eagles' decision to draft him in the 2020 draft was widely criticized by reporters and fans. 
Hurts began his NFL career in 2020 as an all-purpose QB after the Eagles took him in the second round. Playing behind Carson Wentz, Hurts had 12 rushing attempts, one catch and threw just three passes in his first nine games before taking over as Philadelphia's QB.
"My first year here, (people) probably didn't even want to draft me here," Hurts said Sunday. "It was probably one of those things. But it always handles itself."
Neither Hurts nor Mahomes celebrated their conference championship wins too much. The main goal remains for each quarterback to secure one more victory, but either way, Texas is getting its W.
The Associated Press helped contribute to this report.