More than half of American murders go unsolved: FBI data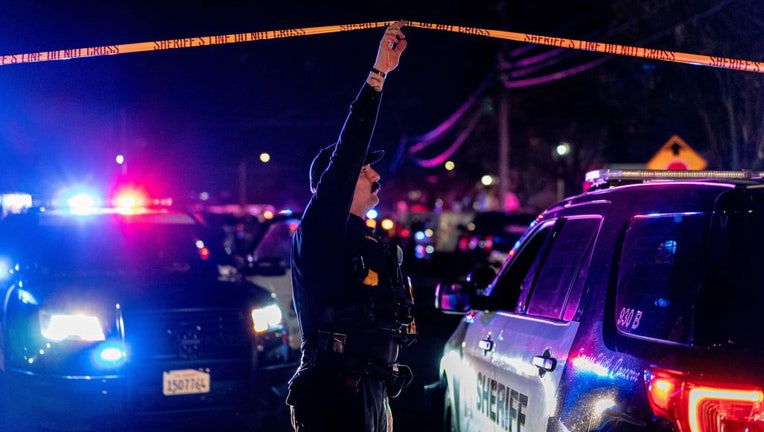 article
U.S. homicides are increasing — and more than half are going unsolved, according to FBI data.
Out of 21,570 homicides reported to the FBI in 2020, 54% went unsolved, an analysis by the Murder Accountability Project (MAP) nonprofit shows.
That was the last year the FBI's Criminal Justice Information Services (CJIS) recorded unsolved homicide numbers due to a drop in law enforcement agencies reporting that data to the Bureau in 2021, according to Thomas Hargrove, MAP founder.
"[CJIS] decided not to make an estimate for 2021. It would have been quite similar, however," Hargrove told Fox News Digital, adding that MAP's research suggests the clearance rate would still be around 54% if it were up-to-date.
DC POLICE CHIEF OFFERS SIMPLE SOLUTION TO GET HOMICIDE RATES DOWN: 'KEEP VIOLENT PEOPLE IN JAIL'
The clearance rate has been steadily dropping since the 1960s, when more than 90% of homicides were solved. The clearance rate was over 66% in 2010 and 61% in 2019.
The decreasing clearance rate is compounded with an increase in homicides since 2020, when the FBI recorded a 30% increase in U.S. homicides overall — the largest single-year increase ever recorded, according to MAP. In 2021, U.S. homicides reached a nearly 25-year high, when the FBI reported 6.9 murders per 100,000 people – just 0.5 lower than the 1996 murder rate of 7.4, according to data examined by analyst Jeff Asher and shared with the New York Times.
NINE CITIES REACHED RECORD HOMICIDES IN 2022 AS STAFFING SHORTAGES PLAGUED POLICE DEPARTMENTS
Hargrove pointed to two primary issues causing more and more homicides to go unsolved. 
Funding the police
"First, police lack the resources to be able to handle the caseload for major crime. The proof of that is how low the clearance rate is. There simply aren't enough boots on the ground to properly investigate and prosecute offenders. It's been that way for a while. Local governments increasingly are broke," he explained.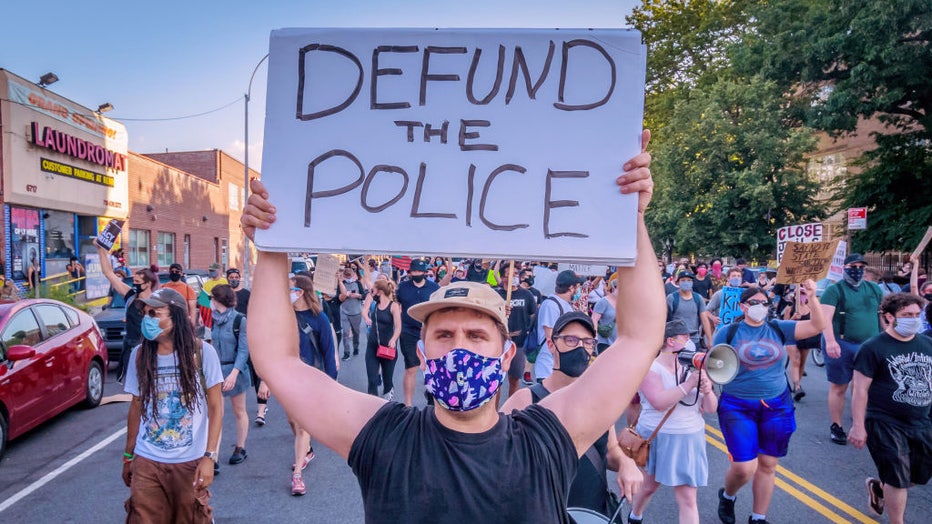 A counterprotester holds a Defund Police sign at the protest. Pro-NYPD marchers clashed with a big crowd of Black Lives Matter counterprotesters. (Erik McGregor/LightRocket via Getty Images)
The second leading cause, according to Hargrove, is a contentious relationship between law enforcement and the communities they serve, particularly in the aftermath of George Floyd's 2020 murder.
EX-COP CONVICTED OF 'AIDING' IN GEORGE FLOYD'S MURDER BY HOLDING BACK CROWD
Procedural justice
"This is not, in our opinion…any kind of unwillingness by police to solve African-American murders. It's an effect of a broken relationship between the police and the communities they serve," Hargrove said. "There is a tremendous disconnect among citizens."
— Thomas Hargrove
In criminal justice, experts use the term "procedural justice" to explain why some people do not "participate in law enforcement" if they assume they will not be treated fairly — an issue that became more prominent after Floyd's murder, Hargrove said.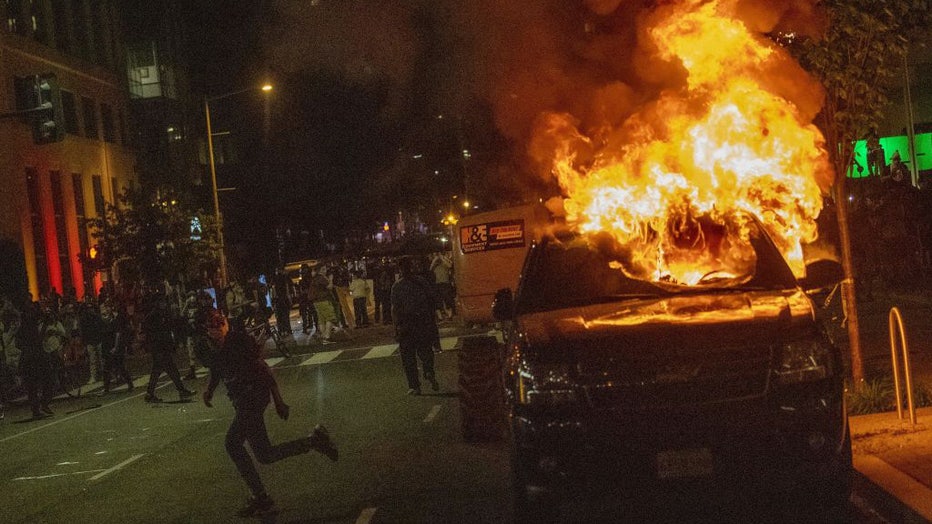 A demonstrator runs away from a burning car one block away from the White House in 2020 in Washington D.C., during a protest over the death of George Floyd. (ERIC BARADAT/AFP via Getty Images)
Last year, MAP reported that Black communities, particularly those in urban areas, borne 100% of the drastic decrease in the U.S. homicide clearance rate. Clearance rates for White, Asian-American and American Indian victims remained steady or improved over time, researchers found.
PHILADELPHIA POLICE COMMISSIONER DANIELLE OUTLAW DISCUSSES STATE OF VIOLENT CRIME: 'A GENERAL FEELING OF FEAR'
Hargove pointed to Philadelphia as a prominent example, with only 42% of homicides cleared in 2020.
Impact on victims' families
In June 2022, Fox News analyst Gianno Caldwell's 18-year-old brother, Christian, was shot to death in Chicago. His homicide remains unsolved more than 10 months later.
"I believe that his case will be solved, and I won't stop fighting until it is," Caldwell told Fox News Digital. "I believe that there's a lot of families out there who lost hope, and they lost hope early, because within the city of Chicago … the majority of the murders that we see occur there [are] Black-on-Black murders."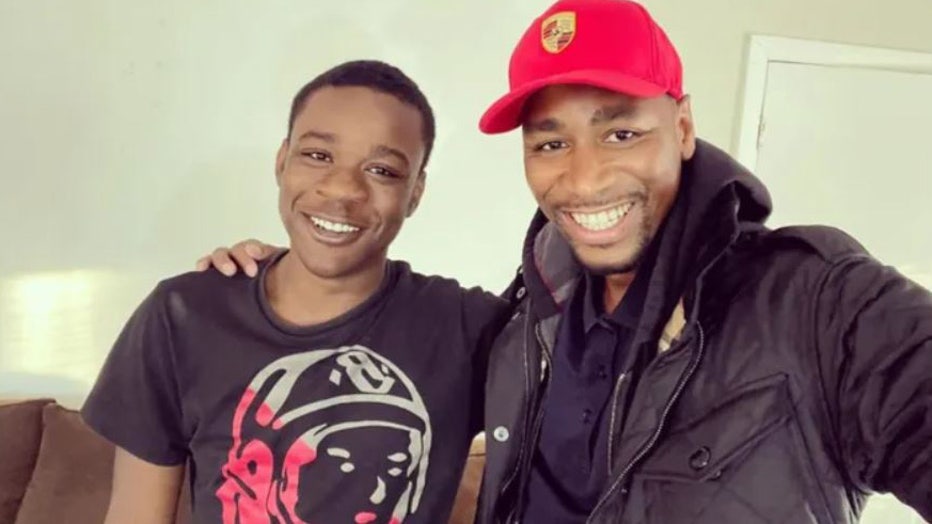 Gianno Caldwell and his brother, Christian, in their last photo taken together. (Fox News Digital)
Less than 22% of 800 homicides in predominantly Black neighborhoods in Chicago were cleared by prosecution in 2021, according to an analysis by Live Free Chicago.
— Gianno Caldwell
Chicago — the city reporting the highest number of murders annually in the United States — has been consistently solving about 50% of homicide cases since 2019.
Caldwell knows his brother is one of hundreds of Chicago murder victims who have died at the hands of unknown killers, and he is trying to use his media platform to improve Chicago's homicide statistics and get justice for victims like Christian. Caldwell is also urging members of Chicago's Black neighborhoods to speak out against injustice.
"The days of 'if I don't talk, no harm will come to my family' — those days are over. Harm is coming to families across the country no matter if they tell on the perpetrators or not. If you want a chance of living, that's a chance you have to take. Too many people who are dying aren't targets [and] are just innocent people at the wrong place at the wrong time," Caldwell explained.
THIS SAN ANTONIO CHARTER CHANGE MEANS MORE CRIME AND CHOAS IN CITY
A more recent increase in stranger-to-stranger homicides has also made murder cases more difficult to solve because there is no apparent connection between the victim and perpetrator, according to a study by the National Institute of Justice.
Hargrove said he is on a first-name basis with the Chicago Police Department's chief of detectives and "wouldn't have his job for the world."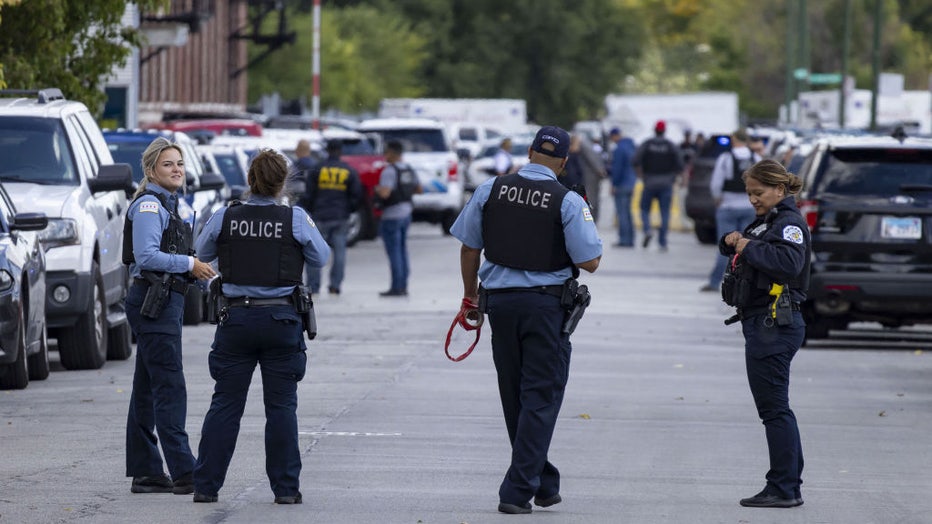 Chicago police investigate a shooting on Sept. 26, 2022.(Brian Cassella/Chicago Tribune/Tribune News Service via Getty Images)
"You're the chief of detectives in murder city, and you don't have enough of everything," Hargrove said. "They don't have enough trained detectives, enough forensic technicians, enough laboratory capacity. … And a similar thing is happening in Philadelphia."
What works
Hargrove named the New York and Los Angeles police departments as two examples of cities with high homicide rates and formerly low clearance rates that were able to "turn that around" over the last several decades.
The NYPD reported a nearly 79% clearance rate in the fourth quarter of 2022.
CRIME-TROUBLED NC TOURIST TOWN PAYS $75 AN HOUR TO COUNTY SHERIFF'S DEPUTIES TO HELP BACK UP CITY COPS
"The NYPD has the resources. It's still the largest department in the country, and homicide is still a very, very sought-after role in the detective bureau, and as a result, they do really have the best detectives. They don't really have too many guys who are just mailing it in," Paul Mauro, an attorney and retired NYPD inspector, told Fox News Digital.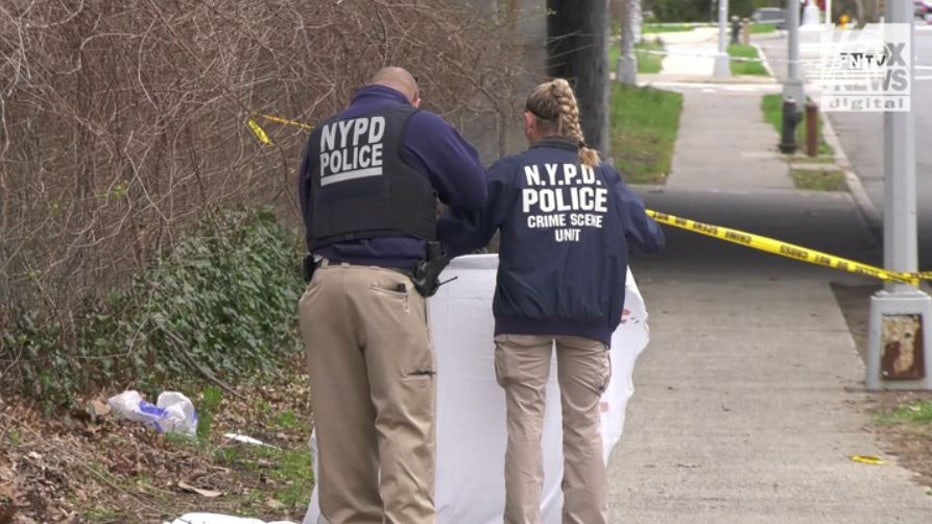 The NYPD secures and investigates the scene of the murder of Orsolya Gaal. (Fox News)
He added that the NYPD has mastered working through digital forensics and assigning enough personnel to cases. Each precinct has its own detective squad, and every borough has a homicide squad, Mauro explained. Investigators on the homicide squad do not work cases, and instead do what is known as "enhancing," or assisting other personnel with finding out more information, he said."[Homicides] are really integral to the narrative that 1 Police Plaza and city hall want to put out relative to crime numbers. And they're considered — in my opinion, erroneously — sort of the bellwether metric," Mauro said. There is "a lot of pressure" to solve homicides and "a lot of resources thrown at" investigators to do so.
NYPD's chief of detectives, too, "is very good," which is "no small thing," Mauro said, adding that the Department has been "fortunate in its leadership in the Detective Bureau."
A law enforcement agency's standard procedures can impact clearance rates, according to a study published in the NIJ Journal. For example, if an agency's homicide unit is notified immediately after the first officer arrives at the scene and secures the area, the chances of solving the homicide become higher. A case with three or four detectives is more likely to have a positive outcome than a case with just one detective, researchers Charles Wellford and James Cronin found.
Additionally, outside factors such as a private crime scene versus a public one; access to eyewitnesses; gang involvement; and any weapons left at crime scenes also significantly impact clearance rates, according to Wellford and Cronin.
Get the latest updates on this story at FOXNews.com.