8 arrests in multi-agency prostitution sting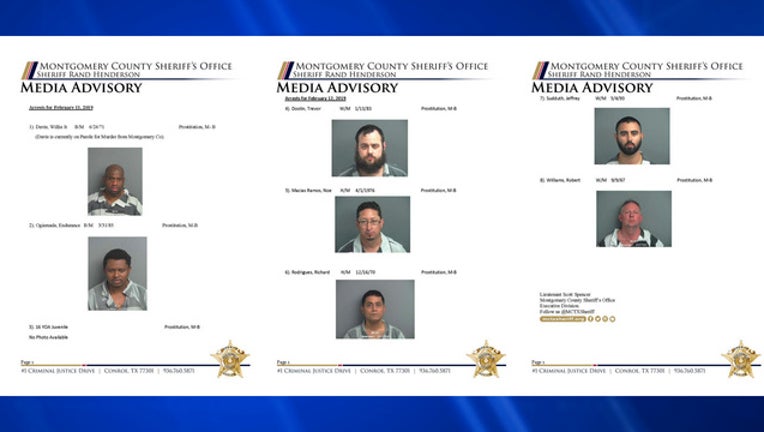 Over a two-day period, the Montgomery County Sheriff's Office Organized Crime Unit and four other law enforcement agencies conducted a human trafficking investigation known as "Operation Broken Heart." The joint investigative effort targeted online prostitution and human trafficking related activities. A total of eight people, one of them a juvenile, were arrested for alleged prostitution while soliciting undercover detectives for sex.
The Montgomery County District Attorney's Office, Houston Police Department Human Trafficking and Criminal Investigative unit, Conroe Police Department, and Homeland Security Investigations (HSI) joined in the two-day investigaion.
MCSO detectives received numerous complaints involving prostitution activities on the internet and in each of the complaints received, investigations led to at least one or more prostitution arrests. The joint operation focused on people involved in using illicit adult websites to solicit prostitution.
Law enforcement agencies conducted a reverse prostitution investigation in which decoy female police officers posed as an escort from the website. 
"The Montgomery County Sheriff's Office and its law enforcement partners will continue to be proactive in the fight against human trafficking," said Montgomery County Sheriff Rand Henderson in a statement. "Through our enforcement actions and working with our partners we will continue to arrest and prosecute those who engage in sex trafficking and rescue those who have been forced into trafficking."
The following people were arrested on Feb. 11:
Davis, Willie Jr B/M 6/24/71 Prostitution, M- B

(Davis is currently on Parole for Murder from Montgomery Co).

Ogiemade, Endurance B/M 3/31/85 Prostitution, M-B

16 YOA Juvenile Prostitution, M-B
The following people were arrested on Feb. 12:
Doolin, Trevor W/M 1/13/83 Prostitution, M-B

Macias Ramos, Noe H/M 4/1/1976 Prostitution, M-B

Rodrigues, Richard H/M 12/16/70 Prostitution, M-B

Sudduth, Jeffrey W/M 5/4/93 Prostitution, M-B

Williams, Robert W/M 9/9/67 Prostitution, M-B